Hazel Wood has been running almost every day for several decades.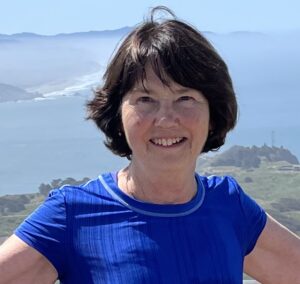 And she's learned a few things along the way, namely:
Running is easier when you're relaxed.
"The key thing I had to learn was to 'effort' less and relax more. Part of that meant learning a new set of running skills. Once my body made the adjustments, I stopped overusing my legs, recovered quickly and didn't get injured."
To improve, you don't have to run more or harder or faster or run hills or the track or…
"No pain – no gain? It's rubbish! It comes back to proper form, optimal breathing, posture and pacing. No grunting or powering through necessary."
Simple adjustments can prevent injuries. 
"All of the common running injuries – Runner's Knee, shin splints, Achilles' tendonitis, muscle pulls, etc. – can be prevented by listening to our bodies' signals, and responding with the right adjustment. The tools I teach and use can prevent all of these common injuries. It just takes a little practice!"
The Story Behind Stride by Stride
Hazel had been running for over 20 years when she discovered ChiRunning in 2002 and was fortunate to learn directly from Danny Dreyer and spend time running the local trails with him learning the ChiRunning method. She was in the first group of Certified Instructors and has been teaching the technique for over 11 years to well over a thousand runners. During that time, she has been running with greater ease, more energy, no injuries and less recovery. For the first time in her life, she can run comfortably the day after a 50K, thanks to ChiRunning.
Body Smarts + Mindfulness
Stride by Stride has proven to be a great complement to running groups, corporate groups and other training programs. Stride by Stride teaches tools and techniques – such as posture, breath, pacing, focus and mindfulness, to bring more grace, ease and enjoyment to the runner's experience, no matter what the distance.
Beginners to Advanced
Hazel has coached Leukemia Team in Training (TNT), Team Survivor, running clubs, and corporations as well as individual runners and triathletes in Marin and the San Francisco Bay Area to help them reach their exercise goals safely, with confidence, motivation and to have fun in the process. Combining her experience and knowledge with her positive and patient attitude, Hazel creates a comfortable environment for people of all ages from the beginning runner to the experienced road racer. Beginners and advanced athletes alike appreciate the depth of her experience.
40,000 Miles+
That's about how many miles Hazel has logged in her lifetime. In her own running program, Hazel is equally at home on trails and on the roads. She also enjoys competing on occasion and has raced all distances from 5K to 50 miles. A consistent finisher in the top 5 of her age group, Hazel also has a number of 1st and 2nd place age group awards to her name. She has also claimed three finishes in the top 35 of the famed Dipsea Race, earning coveted black shirts.
Retired from corporate work, when not our running or walking, the British-born outdoors enthusiast can be found pulling weeds in her garden, enjoying a glass of wine in said garden, and watching episodes of BBC series "Death in Paradise." She lives in Marin County with her husband, Jay and their Golden Retriever, Jenna.